Inside the Suite
Some useful information to help you during your stay with Toronto Furnished Apartments. As always our staff is more than happy to answer any questions you might have. We can be contacted at 416-546-5300 or by email through our guest services manager Maxine Gibson at mgibson@torontofurnishedapartments.com.
AIR CONDITIONING AND HEATING
By law, buildings are required to change from heat to cold air (Spring), and cold air to heat (Fall) by a certain pre-determined time.  Please note that we have no control over this change over.  Buildings normally place notices in elevators advising occupants when this change over will occur with further instructions on how to operate the individually controlled thermostats.
A thermostat controls the air conditioning and heating system, with the settings for heat, cool, low fan, high fan, and off.  Please note that NO hot air will come through the unit after the building switches from hot to cold and NO cool air after the building switches from cold to hot.  If you have any questions on the operation of the unit, please call our Guest Services Team at 416-546-5300.
APPLIANCES
Your suite is equipped with a variety of appliances, including a stove with oven, refrigerator, microwave, washer and dryer, and dishwasher.  Please refer to the owner's manuals for the operating instructions of these appliances usually located in the bottom drawer in the kitchen.  DO NOT MOVE APPLIANCES!  Certain appliances have piping that is delicate and can be easily broken by moving the unit.
Dishwasher
Do not use any detergent other than the products designed specifically for the dishwasher.  Detergents like laundry soap and dishwashing liquid will cause excessive suds that will result in the dishwasher overflowing.  The resulting flood can create major damage.  Never leave an operating dishwasher unattended.
Washer and Dryer
Care should be taken to ensure the water outlet is kept clean.  The dryer lint trap should be cleaned before each use.  In addition, it is recommended that the inside of the washer and dryer be wiped with a damp cloth.  The dryer lint trap should be removed to get rid of any excess lint.
Note:  Please pay attention to weather or not your washing machine is a high efficiency model. Using regular no high efficiency laundry soap can lead to problems as well as a very long wash time.
IMPORTANT:  These en-suite washer and dryers are not industrial machines.  DO NOT WASH heavy duvet covers and comforters as this may cause damage to the motors of these machines.
HOUSEKEEPING SERVICES
 Unless otherwise arranged, your housekeeper will service your suite once a week.
TFA ensures that upon your arrival your apartment will be supplied with toilet tissue, hand soap, tissue boxes, garbage bags, dishwashing liquid, paper towel roll and laundry detergent.  To keep rental costs down, TFA will only replenish toilet tissue and tissue boxes.  It will be your responsibility to purchase the remaining items.
The following duties will be performed on your cleaning day.
Living room – Dust all furniture provided by TFA.  Vacuuming/sweeping and mopping the floor.
Bedroom(s) – Replace / wash the bed linens and make beds, dust all furniture provided by TFA.
Bathroom(s) – Clean bathtub(s), toilet(s) and sink(s).  Replace / wash towels. Sweep and mop floor.
Kitchen – Wipe all counter tops, clean all appliances, sweep and mop floors.
Cleanings are done between 9:00 a.m. and 5:00 p.m. and are normally scheduled the same day as your arrival.  Exceptions are if you arrived during the week-end, the cleaning will normally be on Mondays.  If your regular cleaning day falls on a holiday, your housekeeper will come the following week-day.  If your stay is less than 15 nights, your suite will be cleaned following your departure.
Guest Responsibilities
Please wash your own dishes.
You are responsible for washing your own clothes.
Garbage should be removed from the suite on a daily basis, or whenever necessary. You will be provided with one garbage bag a week. Should you require more it is your responsibility to purchase additional bags.
Please take down your own recycling.
In order to ensure a proper cleaning, please make certain that all personal belongings are off the floor and beds.
Leave washer and dryer empty of personal belongings on your cleaning day so that the bed linens and towels can be laundered for you.
DO NOT use towels and tea towels for cleaning, polishing shoes, etc.  Damaged linens (beyond wear and tear) will be charged on your account.
Some additional information about dealing with waste in your building can be found HERE.
All garbage must be properly packaged before it is placed in the garbage chute or placed in the appropriate bins provided by the property (garbage room).  Please refer to the Garbage Disposal / Recycling section for further instructions.
To find out your exact cleaning day, to re-schedule a cleaning, or to request additional housekeeping, please call our office Guest Services at 416-546-5300.
Using the shower
Guests at our University Plaza location have shower diverters that operate a little differently than traditional diverters.  To use the shower follow these steps:
Set your desired temperature using the handle.
Pull down on the gold ring around the tub spout.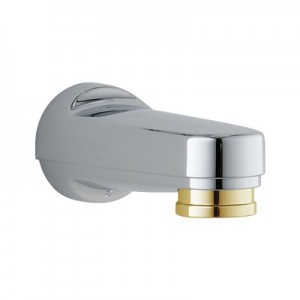 Note: Please ensure that the shower curtains are inside the tub to prevent water from getting on the bathroom floor and creating a slipping hazard.
When finished turn off the water using the handle and the spout diverter will disengage